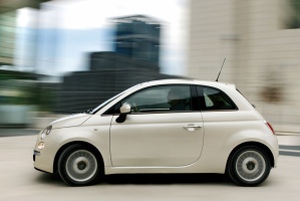 The European Car of the Year 2008 is the Fiat 500. It beats Mazda 2 and Ford Mondeo in a competition judged by 58 motoring journalists from 22 European countries. This is the 12th time Fiat has won the title since 1967.
The Fiat 500 is based on the 2004 Fiat Trepiuno concept. It is widely acclaimed as a great bargain by many motoring magazines. The Fiat 500, measuring 3.55 meters long and 1.65 meters wide, sells for the basic price of 10,500 euro in Italy. Modelled after the Volkswagen New Beetle and BMW MINI, the Fiat 500 sports a cool retro appearance. It offers safety, comfort, style, performance, environment-friendliness and value for money, all in a neat package.

Owners of the Fiat 500 are spoilt for choice. Drivers can choose from a broad range including three different engines, 12 colors, 15 interiors, nine types of alloy wheel and 19 types of sticker. A total of 500,000 variations are possible, making every Fiat 500 slightly individual and unique. The engines available are A 1.2 8v unit, the 75 bhp 1.3 Multijet common-rail turbo diesel, and a 100 bhp 1.4 16v engine coupled to a 6 speed manual gearbox. Currently, three trims are available the Pop, Sport and Lounge. A fourth more basic model called 'Naked' may be put on sale. The Fiat 500 has the full five-star EURO NCAP crash test rating. A standard car is equipped with seven air bags. All Fiat 500 engines comply with environmentally friendly Euro 5 emissions standards, which are set to be implemented in 2009.
With all these attractive features, no wonder the Fiat 500, designed by Dante Giacosa, is an irresistible winner.